Chazot's Thoughts
II
Boomer (Chazot's Mom)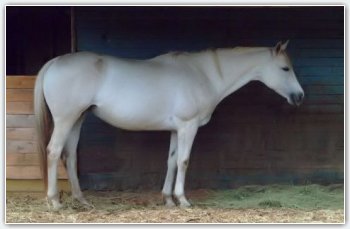 Hi I'm Boomer. I'm Chazot's mom. No I am not a Kangaroo; I am a horse. I guess, they knew that in Australia, a Kangaroo is named a boomer and found appropriated to give such name because I was quite often standing on my rear legs boxing with my front legs. What they obviously did not know is that boomer is the name for a male Kangaroo. A female is a flyer. I would not mind to be name flyer; although, I did not fly very fast on the race track. I heard that Chazot and I might be reunited, and if the project turns into reality they will rename me "Boomerang" in allusion to the fact that I will come back.
I can't wait to see my grand son. I know that I am his mother and not his grand-mother, but he was a very "grand" son. At least his father was not a syringe. Since I am a thoroughbred, Chazot's conception was live breeding. I have good memories of his father. He was cute, athletic, and elegant with good manners. I started to hate Chazot's father when the baby grew too large for my womb. At the least, since I am only 16,2, I was able to blame his father for my baby's size. I also blamed his father for the fact that my baby tried to rear boxing with his front legs in my womb. However, I knew deep under that, considering my name, I might be responsible for that.
I remember that soon after birth, he stood unstable on his very long legs and walked toward the humans watching. He always has been people oriented. They had to turn him around directing him toward my udders for nursing. Later, stories came about him being extremely violent and difficult. I can only imagine what they did to him. He was exuberant with a strong will but he was a kind child. I remember watching him nursing. He was too tall and was taking incredible postures to reach my udders. Sometime, he was separating the forelegs way apart. Other times, he was crossing the front legs. I was hoping that considering his size they would have the intelligence to not try to race him on the race track. Instead, they should try dressage; after all, he already knows how to cross the legs. Then, after nursing, he was sprinting around me bouncing and jumping very high. I then revised my thoughts, instead of dressage, maybe they should try jumping.
I know that he went to the race track and I was very upset about that. How these people could even think that the hind legs of a yearling of this size could take the stress of heavy propulsion at the beginning of the race. In fact he broke down. He fractured the wings each side of his coffin bone early in his training. The thoughts in our horse world is that when it comes to money and ego, humans want us to perform in the specialty they decide instead of the specialty for which we have inherent athletic abilities. The saying in our world is also that we are lucky to be more intelligent that humans think that we are because when it comes to rational thinking, trainers are seriously lacking.
I am anxious to see Chazot. I know that I will recognize him since there are only two horses in the barn; one is black and Chazot is grey like me. I don't know about emotion. I have been told that he is now a very happy horse even if sometime difficult. May be I can help about that. I kicked his butt when he was a baby and I am still his mother. I don't know if today, I will be able to reach his butt, however, I have other ways to communicate.
I have to say, some humans are terrible, others are great. They are creating a network to make our reunion possible. My actual owner, Samanta Wheeler, thinks that Helyn and he would give me a very good retirement. She is donating me to them. I will stay at Caprice Equestrian Entreprise, which is at Calgary, Canada, until I finish raising my last baby. In December, if the plan goes on, I will travel to Georgia. Rosie Simkins who own Horse Heaven Farms in Washington State, has offered to keep me at her place until they can coordinate my trip. Rosie knows Chazot. He was living at her farm toward the end of his racing career. Helyn and he have thanked Rosie many times for the wonderful support she gave to Chazot as he was under her care. Rosie has since followed Chazot's evolution in his new life. Kay Mc Lemore's Horse Transport is rearranging her schedule to keep a place in their truck for me. They transported Chazot from Seattle to Florida where Helyn and he were living when they purchased Chazot.
These people don't even know me. They like Chazot's charisma and are offering their help for our possible reunion. It is hard to understand how within the same species, there are humans who force us to perform into specialties for which we do not have much talent. There are humans who submit us to training techniques which are not even closely related to the way our physique effectively functions. There are people who beat us for bad behaviors without even thinking that we are in fact expressing physical difficulties or pain and there are humans, like the group who is forming around Helyn who care about us to the point of offering help just because they think that my life will be great.
Right now, they have not found the way to transport me from my farm in Calgary to Rosie's farm in Seattle. Helyn is working on the subject seeking transport or fund to pay for the transport. Often in the history of humans, the son who, at the end is taking care of his aging parents is not always the expected one. Chazot was so independent that I was not expecting such interest from him. I know that he is not the one who truly decides to take care of me. However, he is the one who inspired his friends to do so. He is lucky to be where he is. I hope I will have the luck to share his luck.
Boomer