Horse Training Programs
Training Program
(Impossible is only impossible within the limits of conventional thinking).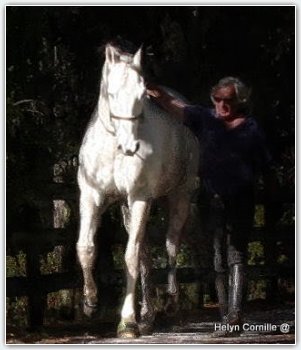 Equine training program.
2013, SOM's Training Program
The Science of Motion training program is restoring soundness and competitive skill even when other approaches have failed. Shelly had a chronic case of Sacroiliac Joint. She was lame with the right hind leg and responded positive to all tests at the exception of pressure on the tuber coxal. Shelly owes her full recovery to the determination and intuition of her owner Julie. Julie Reich did not believe the advises of numerous professionals telling her that the mare had no physical issue, "It's in her head." Of course not it was not in her head. The problem was an inverted rotation of the thoracic spine which placed the thoracolumbar column and therefore sacrum and pelvis in the wrong alignment in relation to the direction of the motion. Consequently, repetitive abnormal stresses were induced on the sacroiliac joint and the joints' stabilizing mechanism worked dysfunctional inducing protective reflex contractions and pain.
Shelly is now sound, calm, cooperative and scheduled to go back home in two weeks. Julie spent a full week at the center learning how to ride her newly sound horse. The experience went very well. Julie fully understood the concept and her skill allowed her to ride her horse very well. Julie is confident that she will be able to continue the horse reeducation and I agree with her. They will be reunited soon.
Mini cooper is her nick name because she is small surrounded by giants such as Chazot, Manchester, and Caesar. An accident turned her into a monster almost dangerous to handle. Victoria has been educated by a knowledgeable trainer and both knew that it was not a behavior problem. Victoria realized that the SOM approach was her horse's sole hope and decided to send her horse for reeducation. Yes it was a problem of torsion in the thoracic vertebrae that rendered mini cooper disconnected in her back. The physical pain created by the two problems triggered her reactions. One month in her reeducation, mini cooper is now sound, exploring comfortable gaits and behaving with great intelligence and kindness.
Tooey is scheduled to arrive May 12. As today, the next opening for hour training program is July first.
The horse are trained every week days and exclusively by Jean Luc. Once their education or reeducation is advanced, we encourage the rider to come and learn how to ride their new horse. When the rider feels confident that he or she will be able to carry on the recovery program, the horse goes back home.
We only take three horses at the time as reeducation demands diligence and time. The rider has to be prepared for changes. Successful reeducation cannot be done applying the principles of riding and training that created the problem.
The monthly fee, including the rider's lessons is $2800 per month (training and boarding). We ask for a deposit of $1000.00 which cement the official reservation. The rest, $1800 is paid at the arrival of the horse. Payments can be made by check (Science of Motion LLC), or through our Paypal account.
For more information about our requirements about vaccination, worming and other issues please contact us. Helyn@scienceofmotion.com, or 706 485 1217
Due to the limited number of availabilities, we encourage you to contact us rapidly for scheduling.
Science of Motion Training program.
706-485-1217