IHTC
The In Hand Therapy Course
A zest of classicism and a large body of science.
A one year course of Corrective Biomechanics.

In Hand Therapy Course
(Having "In Hand" the knowledge necessary for a successful reeducation).
A New Idea
When you enter the IHTC, you feel that you are one century ahead of all other programs. But when you realize that the IHTC program is about the practical application of actual knowledge, you take conscience that the other programs are indeed, one century behind.
Also availible as an online course HERE
Contact helyn for information on the online course
The thought was to have "In Hand", all the knowledge necessary for the complex task of educating or reeducating a horse. When we move from conception to creation, it became apparent that precisely, in order to have "In Hand" all the knowledge necessary for a successful reeducation, it was essential for the therapists to understand how riding techniques create injuries. It was also critical for the rider to explore in hand techniques where limbs kinematics abnormalities are corrected through sophisticated education of the horse's vertebral column mechanism. To be complete, the course needs to provide simultaneously both, the in hand and riding perspective and this is the direction that we are taking.
Not only principles and formulas scleroses the riders' talent but doctrines and clichés also alter the horse's potential. Albert Einstein wrote, "if you judge a fish by its ability to climb a tree, it will spend its whole life believing that it is stupid." As well, if you train a horse for sophisticated athletic performances with simplistic training techniques, the horse will spend his whole life struggling with performances for which he is not athletically prepared. Einstein also reflected,
"Everything should be made as simple as possible but not simpler." Most equestrian theories are simpler counting on the horse's talent to compensate for the inaptness of the horse's education. The outcome of course is lameness. Instead, why not enhance the horse's talent and also propensity to remain sound upgrading riding and training techniques to actual knowledge of the equine physiology?
The answer is a course which is not about making the horse do it but instead how the horse does it. The IHTC focusses on preparing efficiently the horse's physique for the athletic demands of the performance. The outcome is a horse performing at its utmost potential and remaining sound. When a performance is thought in terms of optimal muscular development and coordination, the outcome is not only preserving soundness but also restoring soundness. Repetitive abnormal stress causes injury and correcting the root cause of the abnormal stress is the most efficient therapy. "The gait abnormality created by a specific lesion is the gait abnormality that causes the lesion." (James Rooney, Biomechanics of lameness in horses - 1969).
The IHTC condenses decades or researches, experiments and practical applications. There is only one syllable between simple and simpler and without adequate knowledge simple is simpler. We do not pretend that the horse's biological mechanism is simple, but it can be clearly explained. We do not pretend that riding efficiently is simple but it can be learned. We do not pretend that reeducating a horse is simple. Accepting the complexity of a problem is a decisive step toward resolving it. In most instances a horse's can be reeducated if we move away from the riding and training principles that created the problem.
The IHTC approaches your education from three different angles, biomechanics, practical application, and cases studies. The cases studies demonstrate how reeducations are achieved addressing the root causes of abnormal stresses. The main course, the practical application working in hand and/or riding the horse, familiarizes you with advanced concept, demonstrating that these advanced concepts are not out of reach but instead, are easily understandable with concentration and ethic. The word ethic is used in reference to the fact that the horse will suffer if we don't have a sound understanding of the horse's functional anatomy and therefore, the ability to prepare the horse's physique for the athletic demand of the performance. This education is the task of the biomechanical study presented with each installment.
Since we have followed Einstein's teaching all along, we should end this introduction with another thought of the greatest mind ever. "The true sign of intelligence is not knowledge but imagination." Through art, science, experience, sensitivity, humor and the practical application of pertinent discoveries, the IHTC challenges your creativity. The art of riding demands intelligence and intuition. Both are deadened by traditional approaches. Read us with intelligence and then, apply us believing in your intuition and you will succeed.
For those who have the opportunity to benefit from Jean Luc's personal instruction, the IHTC is the absolute best complement. Muscles and bone actively remodel in response to change in exercise. Adaptation is necessary practically on a daily basis. Training formulas are generalities. A horse is an individual entity. Success relies on the rider's ability to analyze the horse's difficulties, which demands sound and updated understanding of the equine biological mechanism.
The IHTC is a twelve month package program. In fact, a thirteenth package is added as a gift. At the end of the course, one receives a certificate of completion. The certificat of completion attests that you have completed the course and therefore posses advanced knowledge. The certificat does not certify you as a JLC instructor. Such certification is the subject of a more advanced program that we are currently creating. The IHTC provides the knowledge to became later a JLC instructor.
The course can be purchased in one single payment of $2800.00, which is the most economical approach.
The second option is a monthly payment of $275.00 , which includes the thirteen packages.
The third solution is a purchase at a frequency that tailors your finances, one package every other month or more. The price of each package is $295.00. The thirteenth month remains included in this option and is delivered with the certificate of completion once the full course has been completed. (see below for payment button)
The Work In Hand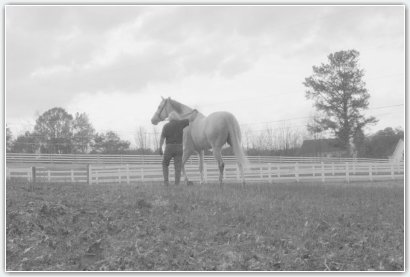 We have created a hind hand techniques educating the horse's vertebral column mechanism. The technique is inspired by General Decarpentry's idea, (Academic Equitation, 1949) but has been greatly furthered and enhanced through experience gained preparing equine athletes for the higher level of performances and through research studies presenting a totally new understanding of the equine vertebral column mechanism.
The journey started with a dramatic rehabilitation problem. The horse recovered from a fracture of the right hind leg coffin bone. It is through the friendship of a horse and a man that the fundamental discovery that has rendered this technique so effective has been made. A horse does have the capacity to fell and follow change in muscle tone and movements of the trainer back even when the trainer is walking by the horse side. The DVD "One Hand on his Shoulder", which is part of the IHTC's first package is the story of this fundamental discovery.
Through this dynamic relationship, a horse can correct and refine the work of his vertebral column mechanism and consequently correct limbs kinematics abnormalities causing injuries and lameness. All along this course, it will be demonstrated again and again that at the contrary of conventional beliefs, back issues are not the outcome of hocks problems or other limbs disorders but instead, back problems are the root cause of most limbs kinematics abnormalities and consequent injuries.
Of course, a sophisticated education is necessary. Even if the horse responds naturally to adjustments of the trainer's back, there are many reasons such as speed, or weight on the bit, that will annihilate the horse's perception. The in hand education of the IHTC guides you step by step through this subtle education.
A Better Equitation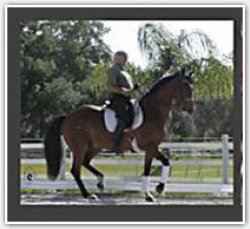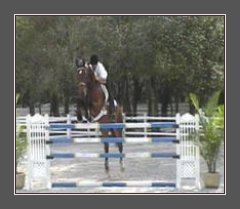 Proper functioning of the horse's thoracolumbar spine is essentially dynamic. Gaits and performances cannot be created through greater amplitude of the horse's vertebral column movements but instead through greater sophistication in the coordination of numerous and minuscule muscles' contractions and compensatory contractions. Such orchestration is mostly influenced by subtle adjustments of the rider's back. Once one has experienced working in hand the feeling of a horse adjusting the work of his vertebral column to nuances in muscle tone of the trainer back muscles, one can evolve to an equitation based on minute movements and sophisticated adjustments of the rider's back. "The biomechanics of the vertebral column, although very complex, are of vital importance because they form the basis of all body's movements," (Leo B. Jeffcott, Natural rigidity of the horse's backbone , 1980) The biomechanics of the horse's vertebral column and consequent limbs' kinematics can effectively be corrected. The condition evidently is that the rider's vertebral column works in agreement with the biomechanics of the horse's vertebral column. This is a better equitation.
In Hand Therapy Course (IHTC) is designed for therapists anxious to further their knowledge as well as riders/trainers interested in extending their ability to reeducate horses and prevent injuries. IHTC provides both, knowledge and the practical application of knowledge.
Three monthly studies, (twelve months) – "In Hand Technique" – "Equine biomechanics and corrective biomechanics" – "Case study"
The In Hand Technique is the zest of classicism.
-The technique is inspired from General Decarpentry's Academic Equitation and updated to actual knowledge of the equine physiology.
-This specific in hand technique allows accessing and influencing the horse's vertebral column mechanism. (Most limbs kinematics abnormalities originate from improper functioning of the horse's thoracolumbar spine).
-Monthly instructive videos teach first the basic and then, the many subtleties of the technique. (It does not take long to teach the basics, however, there is a lot more to this technique than walking next to the horse performing some movements. The in hand education focuses on achieving sophisticated control of the horse's vertebral column mechanism.)
The continuing education series (biomechanics) explains,
- How the horse's physique is designed to work, (functional horse).
- Kinematics abnormalities leading to injuries
- Kinematics abnormalities created by training misconceptions.
For instance, the first study explains and demonstrates the hind and front limbs braking and propulsive activities, how they can be modified and enhanced. The next study focuses on the management and forward transmission of the thrust generated by the hind legs forward through the vertebral column, etc.
The case studies are not necessarily about in hand work. Their purpose is to demonstrate analytic and thought processes leading to the source of the kinematics abnormality causing injury. No successful therapy can be completed without addressing the root of the problem. However, it is not always easy to identify the source of the kinematic abnormalities.
-IHTC is a twelve month program sanctioned at the end by a certificate of completion.
-The monthly timeframe selected for this course, allows time to gradually master the technique. The in hand technique is sophisticated and demands practice.
-The course can be started anytime. The twelve month course starts at the date of purchase. The three monthly studies, "In hand Education", "Biomechanics and Corrective Biomechanics", and "Case Studies", follows a progressive order of difficulty.
-Monthly studies are DVDs (shipped via UPS) and PDF files .
Also a private Facebook group for questions to Jean Luc.
-The course provides information that cannot be found anywhere else. Some of the videos and documents are exclusive to the IHTC.
Fees and conditions.
Single annual payment, $2800.00
Monthly subscription payment, $275.00 per month. (Annual cost $3540.00)
Buy one course at a time $295.00 Plus Shipping
Fees includes shipments.
Studies are mailed on a monthly basis .
Payments can be made through PayPal, jeanluc@scienceofmotion.com
or by check to Jean Luc Cornille.
370 Crooked Creek Road
Eatonton, GA 31024
The first package will come with the DVD "One Hand on his Shoulder".
If you have any question, please contact Helyn, helyn@scienceofmotion.com
Tel, 706-485-1217
We have created the IHTC online as well.
The documents are emailed to you.The videos can viewed online and DL.
contact Helyn@scienceofmotion.com for more information.
Availibe only to subscribers or full payment
Testimonials
Wow. There's just so much to talk with you about in regard to the In Hand Therapy Course...
I guess to answer your first question, yes, I use the information every single time I work with my horse. Or other horses for that matter. The depth of the material is amazing...
Let me back track a little to give you a better understanding...
I began riding 35 years ago. I became a massage therapist almost 15 years ago. -I'm a licensed massage therapist and my practice revolves around massage therapy for both horses and horsemen. I'm an equine veterinary technician and I've been blessed with the good fortune of working with some of the best equine sports medicine veterinarians in the country. Continuing education is incredibly important to me. Once a year, almost every year for the past 15 or so years, I've traveled across the country searching for the best, most up to date courses on equine anatomy, physiology, sports medicine & rehabilitation, saddle fitting, etc. etc.
The area I live in has a fairly high population of professional horsemen from a wide range of disciplines.-From flat racing and steeplechase to polo, carriage driving, eventers, dressage, etc. We even have a few eventers who are veterans of the Olympic Team. -As you can imagine, there's no shortage of options for clinics and lessons.
Trust me, the only reason I'm telling you all this is to point out the fact that I've done my homework in regard to my choice to study with Jean Luc.
This calibre of education is very, very difficult to find. Yes you can certainly find pearls of wisdom
with various horsemen and/or veterinarians. But as I said, the depth and the quality of education Jean Luc is offering is priceless. I've been trying to find a program like this for years. You'd be hard pressed to find someone who not only understands anatomy, physiology, kinesiology, and equine psychology as well as he does BUT ALSO has a gift for teaching and sharing it. AND has the career riding experiences that he has.
As I mentioned, there are numerous riding instructors in my area. And again, very, very few of them can train a horse, especially to the higher levels and keep the horse happy and sound. That's honestly what I love the most about studying with Jean Luc. As a vet tech and a massage therapist, I can't tell you how often I hear clients talking about joint injections. It's almost a given that horses who are competing end up having their hocks and stifles injected. That's just not a path I want to travel with my horse. -Too often as a massage therapist I have felt the muscular strain and fatigue that's the "accepted" result of many training programs. I was looking for a much more educated approach...an approach that would offer a stronger, healthier horse. I wanted a training philosophy I could feel confident in passing along to my clients. I want to be helpful to them and to their horses in offering rehabilitation options if they do have injuries. -I'm guessing you've either met or seen photos of the Cornille's horse, Chazot? -take a look at the muscular development from the time he left the race track and first arrived at their farm to the way he's built and carries himself today.Those pictures will tell you alot.
Yes, I've been to numerous clinics that Jean Luc has taught here in Pennsylvania and I've traveled to Georgia for I believe the 3rd Immersion Clinic.
In fact, we're in the processing of organizing another clinic here in PA, hopefully early this spring. The information is certainly not difficult to understand. -You do need to be open to the fact that many of the training philosophies we were taught as young riders has been proven to simplynot be true. You're going to learn new concepts. If you're going to attend an Immersion Clinic, depending on how confident you are in equine anatomy, I would suggest brushing up on it before you go. There's alot of information presented throughout the weekend and it will be much easier to absorb and process if anatomy is second nature.
But seriously, there is no need to take my word for any of this. Spend some time riding with Jean Luc. Your horse will tell you he's happy.
And your horse should have the final say!
Kindest regards and very best of luck to you!
D.P
Most of those of us currently enrolled would be considered the freshman class. We are the Beta version, hence the current cost. I am an Equine Therapist, so for me the concentration is on performing the work in hand, as compared to the riders in the group who will focus on the work from in the saddle. The science of equine motion is the same regardless. We have a group on facebook which serves as both a forum and support group. The variety of questions is great because other people are always coming up with things you might not think of and that broadens the experience. Some of us have become regular friends on facebook as well, so that we can chat outside of the forum. We all keep an eye out for when Jean Luc is doing a clinic in our area so we can see the well spring of SOM in action. For me it is not easy and I have seen some of the DVD's multiple times and still go back to them. It is rewarding though, when you go back and realize how much more you see. What is really amazing though is the way you begin to experience seeing a horse. It is kind of funny when you see a horse standing there and you find yourself thinking, move already so I can see what kind of horse you are. I am not a rider, but even I can watch someone bouncing all over the place at the trot and wonder when the horse is going to go lame, because I see it as a biomechanical issue. LW
Hello, As a recent graduate of veterinary school at the ripe age of 52, I just wanted to comment on science of motion. I went to veterinary college specifically looking for the sort of approach you have developed for rehabilitating horses and for preventing injury in the first place. It is what I imagined doing as veterinarian. For four years as a student I looked for someone would even acknowledge that such an approach was possible let alone had any idea how to go about it. Helping a friend recently trying to rehab a horse with an SI dysfunction led me randomly on a search that allowed me to discover scienceofmotion. Speaking as a veterinarian and lover of horses, I am so thankful that you have dedicated your lives to creating this body of information and are willing to share it with the world. Best wishes, Dr. Timothy Rogers DVM
Welcome, and we thought we were on to something with the immersion clinics, IHTC adds a new dimension. If immersion brought technicolor to your world with horses get ready for surround sound and 3D. Louis Wild
The first month's packet is wonderful as it is going even deeper into the knowledge needed to really understand the kematics of the horse. I have even found that studying it, I can look up scientific articles describing the way muscles work which help me to start to grasp the whole concept.
The more I see and learn, the more I am convinced that this is the only way to truly help the rider help the horse. They are the ones that have constant contact with the horse and in order to try and show them this true way, one must have an indisputable knowledge of the scientific facts regarding the horses biomechanics. The In Hand Therapy seems the best way to help the rider help the horse. Rosemary Crowley
Hi Helyn and JLC.
I received the IHTC3 dvd and look forward to watching it. Thank you for sending that and all the other great information. I very much appreciate all the support as I learn this new way of thinking and working with my horses. It's nice that if an issue arises you'll send the information I need to support me rather than making me wait. :)
I'm having so much fun applying these ideas to the horses I have to work with here this spring.
What you have put together totally meshes with what I have been intuitively feeling compelled to do with the horses I've had in for rehab. I could see the negative results of common training practices, but didn't have the confidence or information to back up what I believed to be true. I'd find glimpses of philosophy that supported my ideas but the bulk of what's out there and accepted does not. It's particularly frustrating when you find people who have a lot of clout or good reputation who are contributing to perpetuating the myths.
I'm super excited about my young horse - Rio. I've only had him for a few years - he's a lusitano arabian cross. He was trained pretty hard as a youngster (he's only 7 now) and when I got him I was seeing signs of developing lameness in his right front and both hinds. Every trainer I've worked with has told me he has no impulsion, he's lazy and he's challenging me…. every time I would do as suggested and push him to go faster than his natural cadence he would get sore, his back would start to look strange and he would get sullen and shut down. Every fiber of my being said that this is not a lazy or defiant horse - that there was something I needed to do differently to support him properly and then he'd give me all of himself willingly. He's had several months off because I wasn't making progress - stopped seeking input from local trainers a long time ago…. - he's built very uphill (in a pretty exaggerated way) very high set neck and pretty upright shoulders. His withers dropped off very steeply, creating this odd dip where the withers join the back - so his back looked like it was going downhill into the base of his withers…. He also had that sort of goose butt look from the rear - very slab sided - no nice round hindquarters… he looked obese because of the way he carried his belly. If I asked him to go fast forward he would start to develop that dip in front of the SI…. I've done maybe 5 sessions of work in hand in the last two weeks and immediately started to see nice changes. Yesterday I hopped on him bareback for the first time in months and he was great. He was able to go so slowly that I could feel each foot touch the ground and stay for a moment - his back is totally changed. He finally looks like he supposed to look - nice top line and nice round hind end. He is more balanced and comfortable in his work and just hanging out. Thank you so much for showing me the key to helping this lovely horse be comfortable and sound! I can't wait to see what he's capable of now!!!
Sincerely.
Andrea Datz.