International Conference at
Science of Motion

IHTC Immersion 2013

Lecture
October 5th and 6th 2013 limited room register early.
helyn@scienceofmotion.com
Event has passed. Join us next year for this annual event.
"There is no limit to what can be accomplished when no one cares who gets the credit." (John Wooden) There is no limit to what can be accomplished as long as the horse's rehabilitation is not limited to one's beliefs. Rehabilitating a horse demands a large body of knowledge. A great part of this knowledge is about identifying and working with the right experts. The forum of the IHTC is successful because it is not about one trying to resolve every problems from a single perspective, but instead the forum allows knowledgeable riders, therapist, vets, farrier, nutritionists, barefoot trimmers to respect each other expertness, exchange ideas and broader their education.
One cannot know all, but the horse can benefit from all. This is the thought directing the special Immersion scheduled October 5 and 6 at the Science of Motion Center. Five experts are going to discuss in front of you and with you about the same subject, from their own field of expertise. One of the subjects is Navicular Syndrome. DR, Pike DVM and DR, Elliot DVM from Piedmont Equine Associates, will talk about available treatments and therapies. Patrick Roth, who, as a farrier, works closely with Dr. Pike and Dr. Elliot, will talk about his experience on trimming and shoeing. Dr. Betsy Uhl, DVM, PhD, will present her research on navicular syndrome. Betsy is also an advanced dressage rider and her double skill guided her to observe in the necropsy room, the relation between improper vertebral column mechanism and limbs kinematics abnormalities causing the development of navicular syndrome. Michelle L Osborn, Ph.D., A comparative biomechanical study.
Jean Luc Cornille will explain how in hand work and riding technique can rehabilitate the horse.
Recently, someone commented on one of our publications using the word "reeducation" saying, "he probably means rehabilitation". Rehabilitation is in fact reeducation in the sense that it is about educating the horse to use his physique efficiently. In fact, most problems, include navicular syndrome, would likely have been prevented if the riding and training techniques applied for the re-education would have been applied for the initial education.
2nd day: Practical Application: How to understand, prepare and benefit from dressage movements. The athletic demand of each dressage movement. How to prepare the horse's physique for the athletic demand of each movements. Conditions for success, both in the show ring and rehabilitation. Adaptation of the education to the horse's morphology and muscular development. Damages created by misconceptions.
There wil be drawings for gifts from our sponsors
Sponsors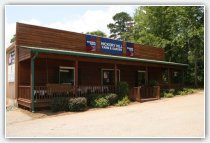 Hickory Hill Farm and Garden
no refunds